Charles S. McDonald Sr., 74, of Beaufort, passed away on Monday, November 21, 2022, at Carolina East Medical Center in New Bern.
A funeral service will be held at 2:00 PM on Sunday, November 27, 2022, at Bridgeway Church of Beaufort. Burial will follow at Carteret Memorial Gardens of Beaufort.
Charles graduated from Queen Street High School in 1966 and attended Harris Barber College in Raleigh, NC. Upon graduation he was the first African American to be hired as a security police officer at the Morehead City State Port. During his tenure at the State Port, he became the first African American President of the International Longshoremen's Association (ILA); Dock Workers Union Local 1850. In 1977, he was hired by the Beaufort Police Department, where he worked his way through the ranks and proudly retired as Chief of Police.
In December 2001, he was elected to represent the citizens of Beaufort as Town Commissioner and served consecutive terms through 2021. During his tenure, in 2007 he was selected as Mayor Pro-Tempore. Charles has served the community all his adult life, as a barber, police officer, and owner of Old Town Taxi. He was a member of Mt. Zion Missionary Baptist Church, where he served as Chairman of the Trustee Board. He was a member of the Masonic, Hero Lodge No. 248 and a lifetime member of the NAACP.
He is survived by his wife of 51 years, Glenda Godette McDonald of Beaufort; son, Charles S. McDonald Jr. of Havelock; daughter, Pheon R. Legette and husband, Steven
of Fredericksburg, VA; sister, Joyce Avery of Beaufort; one grandson, Christopher Mazique; two granddaughters, Yanni Legette and Charlicia McDonald.
He was preceded in death by his mother, Carrie Anderson and a host of brothers and sisters.
Condolences and life tributes may be sent to the family at www.noefs.net

Arrangements by Noe Funeral Service, Inc. of Beaufort, NC.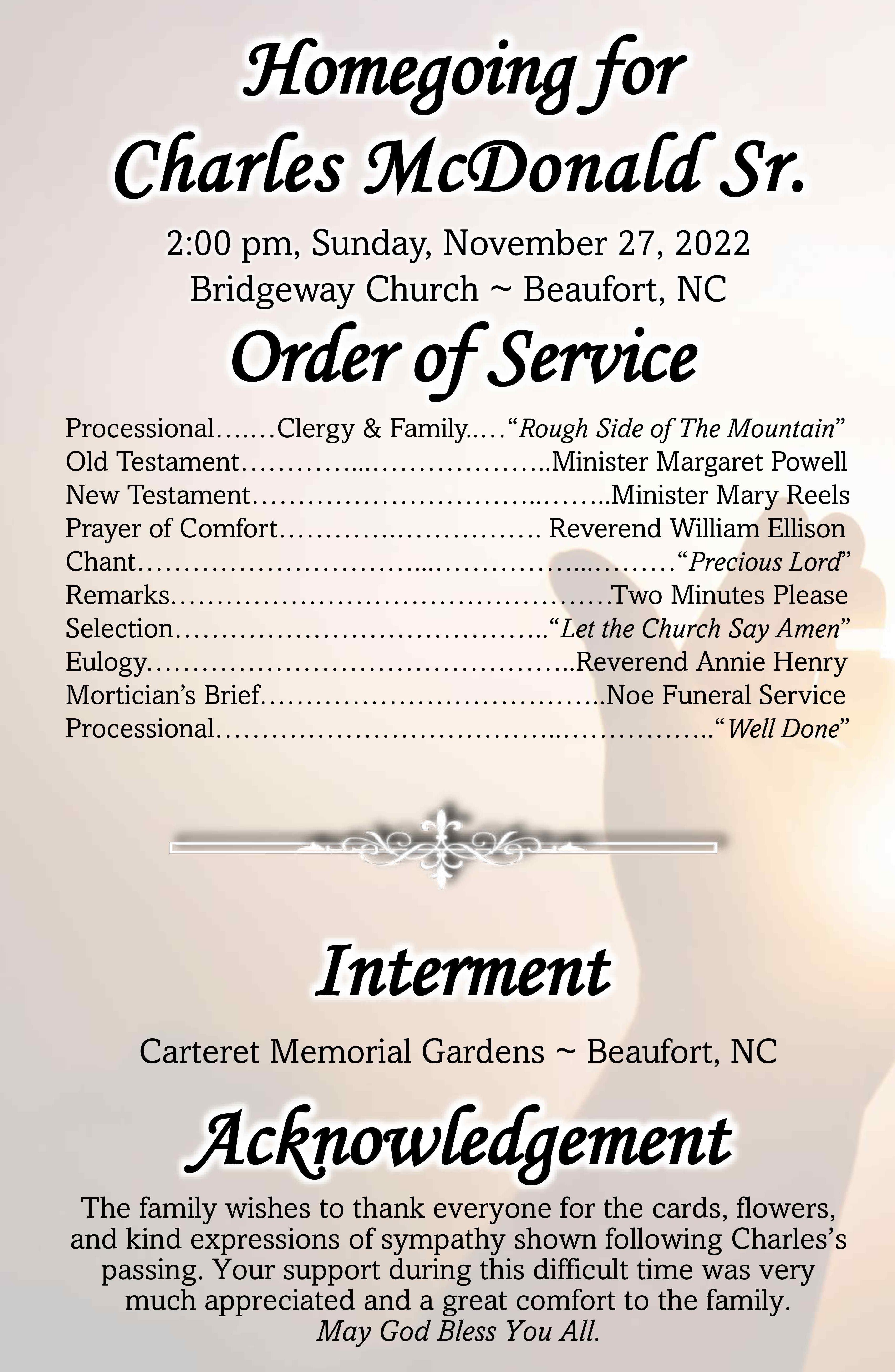 To send flowers to the family, please visit our floral store.