David Richard Felton Jr., 88, of Havelock, passed away on Sunday, November 20, 2022 at Carolina East Medical Center of New Bern.
David attended Mt. Tabor Missionary Baptist Church early in life and later was a member of Pilgrim's Rest United Church of Christ in Havelock.
A funeral service will be held at 12:00 PM on Saturday, November 26, 2022 at Bridgeway Church of Beaufort. The family will receive friends from 11:00 to 11:45 on Saturday at the Church.
He is survived by his son, David Richard Felton III of Jacksonville; daughter, Angie Felton of Jacksonville; son, Steven Felton and wife, Monica of Havelock; son, Michael Gaskill of Havelock; a host of grandchildren, great grandchildren, nieces and nephews; brother, Clyde Felton and wife, Dorothy of North River; brother, Swannie Felton and wife, Linda of Lake Charles, LA; sister, Eva Little of North River; brother, Rudolph Felton and wife, Lena of North River; brother, Bobby Felton and wife, Wanda of Havelock; brother, Merica Felton and wife, Brenda of North River.
He was preceded in death by his parents, David and Ovella Felton; son, Frankie Felton and wife, Esther.
Condolences and life tributes may be sent to the family at www.noefs.net
Arrangements by Noe Funeral Service, Inc. of Beaufort, NC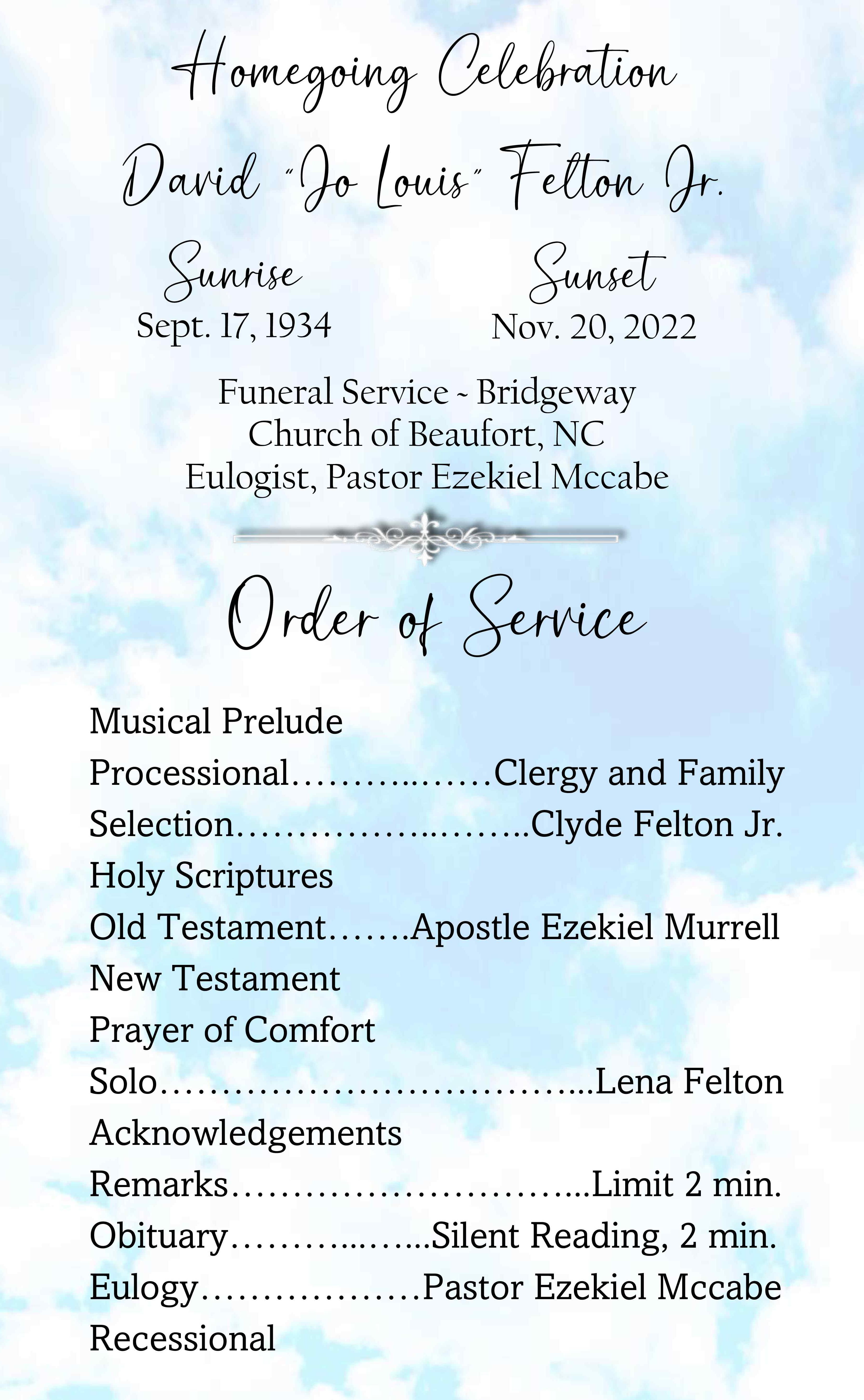 David Felton Jr.'s Memorial Folder
To send flowers to the family, please visit our floral store.