Dora Sharpe Anderson, 83 of Beaufort passed away Friday January 13, 2023, at Carteret Health Care.
Dora Bell Anderson was a loving mother, sister, Grandmother and friend. She was born on October 14, 1939 in Stateboro, GA. She was the youngest of five siblings born to the late Otis and Elizabeth Sharpe. She was a faithful member of Mt. Zion MBC where she served as an usher, missionary and helped in the kitchen during vacation Bible school. She loved Walmart and spending time with her family and friends.
She was married to the late John R. Anderson; three daughters, Cynthia (William) Oden of Morehead City, NC, Julianna Henry and Sonya Henry of Beaufort, NC; two sons, David (Jacqueline) Sharpe of Lake Charles, LA, Derrick (Westeria) Henry of Chattanooga, TN; one brother, Rooservelt Sharpe Sr. of Florida; one uncle, Leroy (Almira) Sharpe of Beaufort, NC; five sister-in-laws, Dorothy Sharpe, Annette Johnson both of Florida, Gladys Sharpe of Atlanta, GA, Connie Short and Sarah Anderson both of Greenville, NC; four brother-in-laws, James T. Anderson, Franklin Andrews both of Greenville, NC, Melvin Bryant of Riverside, CA, and Donald Anderson of Grifton, NC; two honorary daughters, Jacqueline Davis and Carolyn Dove. She was preceded in death by her parents, Otis and Elizabeth Sharpe; husband, John R. Anderson (Buddy Boy), one sister, Rosezena Long; three brothers, Joe Sharpe Sr., Harvey Johnson, and Wallace Sharpe Sr.; three sister-in-laws, Gustine Sharpe, Dessie Mable and Evonne Dixon.
She had 10 grandchildren, 24 great -grandchildren, 14 great-great-grandchildren, and a host of nephews and nieces. A Special thanks to her Pokeno buddies her Thursday's happy. They called her ("No Fingers") because when they saw her coming someone would jump up to fix her plate. Helen Harrison, Doll Hall, Peggy Washington, Ann Parmley, Ann Hargrove, Evelyn Johnson, Shaniquea Lewis, Doreen Barnette, Charles Hargett. Also a special thanks to her crew of from Fresenius Kidney Care, Brittany, Josh, Cyndi, Kellie, Patsy, Debbie, Amanda, Theresa, Leta, Holidae, and Wilda for taking good care of her; and to Ina Pickett for bringing her food to her on Dialysis days and Essie Johnson for making her Sunday dinners special.
Her funeral service will be held 11:00 a.m. Saturday January 21, 2023, at Mt. Zion Missionary Baptist Church in Beaufort, interment will follow in Oceanview Cemetery in Beaufort. The family will receive friends from 10-11 a.m. Saturday at the church.
Condolences and life tributes may be sent to the family at www.noefs.net
Arrangements by Noe Funeral Service, Inc. of Beaufort, NC.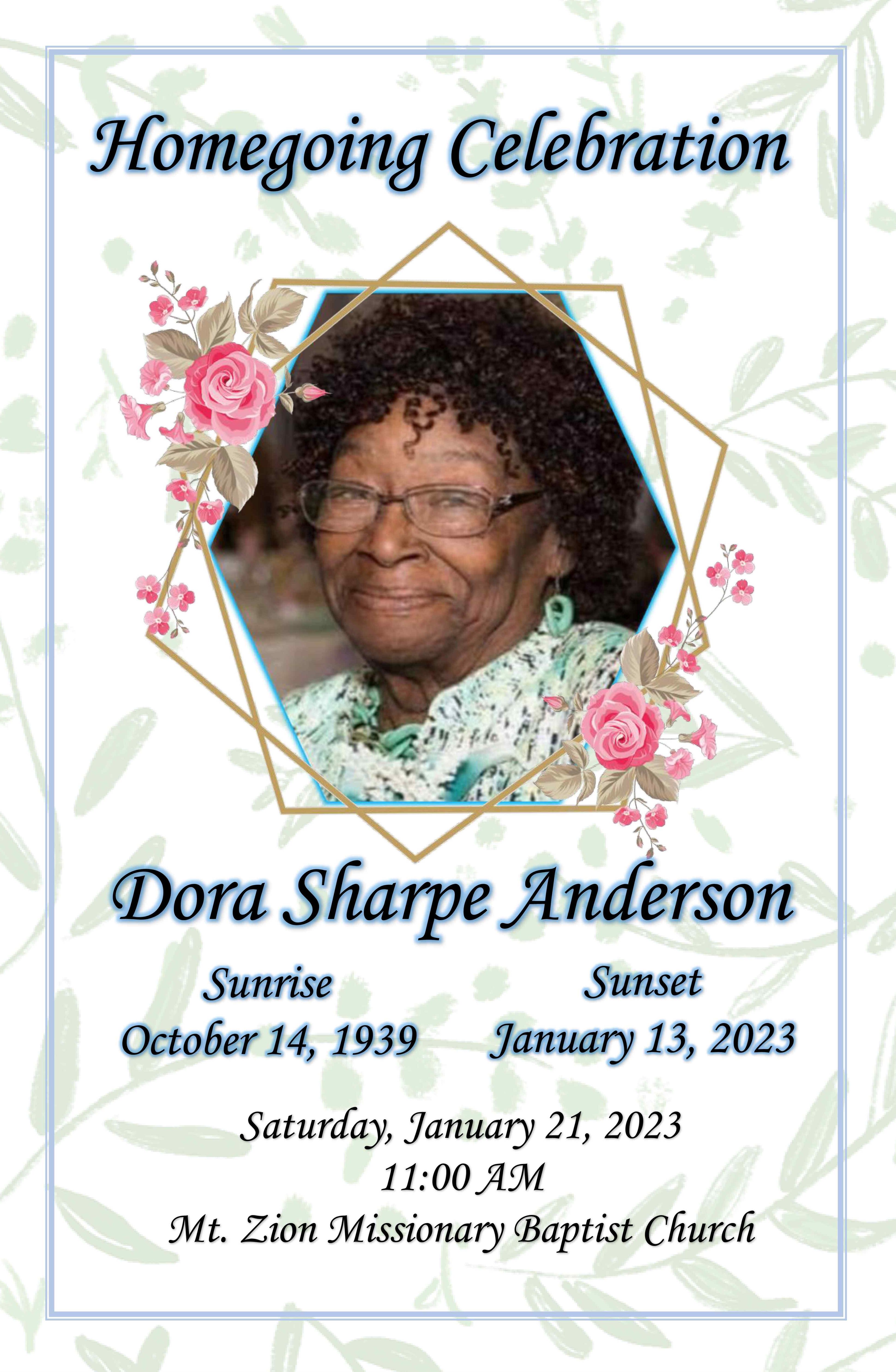 Dora Anderson's Memorial Folder
To send flowers to the family, please visit our floral store.